Does you or a loved one suffer from Multiple Sclerosis, and would benefit from MS care from the comfort of the home?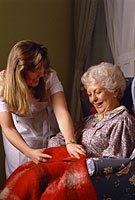 Some of the exceptional caregiving services that an A-1 Home Care caregiver can provide in the home include:
assistance with household chores like dusting, vacuuming, dish-washing, laundry, mopping, taking out the trash, and bed-making
assistance with yard work and gardening tasks like watering plants, mowing the lawn, and raking leaves
assistance with personal services like bathing, grooming, dressing, and toileting
transportation to and from medical appointments and other existing engagements
delicious and nutritious meal preparation
wake-up and tuck-in services
running errands like grocery shopping and picking up clothes from the cleaners
medication reminders and administration assistance
enjoyable conversation and companionship
special needs care
child care
pet care
A-1 Home Care has been the non-medical home care agency of choice in Los Angeles and Orange County since its inception more than 20 years ago, providing a variety of caregiving solutions for every elder who calls on our name. We additionally provide services in the home that include companion care, Parkinson's care, after surgery care, and more.
If you want to find out more about the exceptional live-in care options that are at your disposal when you choose A-1 Home Care today, contact our friendly staff by dialing  (877) 929-8499 or visiting our website at A-1homecare.com