Filing a Long Term Care Insurance Claim
HELPFULD HINTS TO FILE LTC CLAIM
When you need to file a claim on your Long Term Care insurance you're likely to be stressed with the life changes your family is dealing with.
Here are some helpful hints from A-1 Home Care Agency to assist you in activating your Long Term Care Insurance Policy.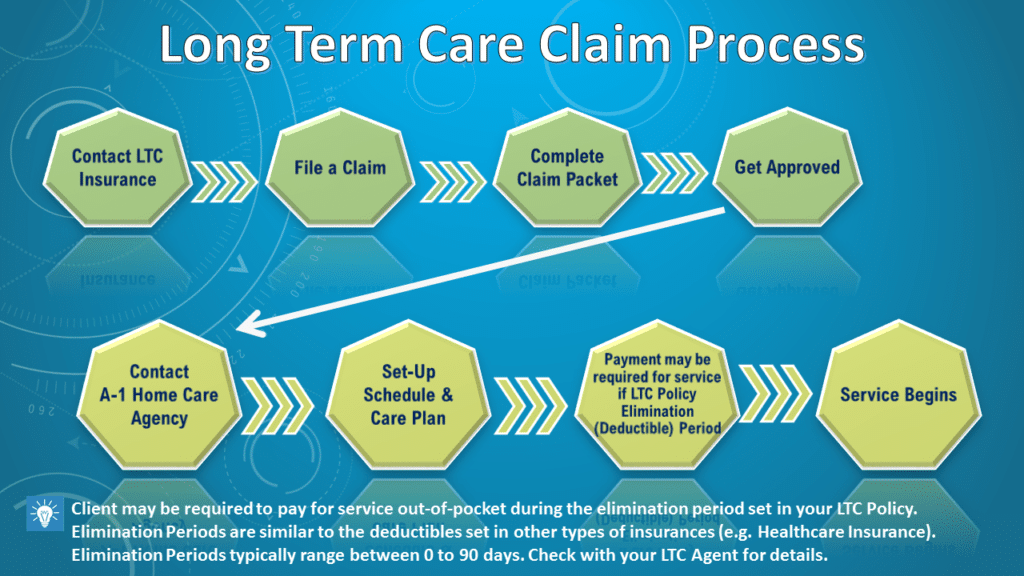 Should You Use Your Long Term Care Insurance?
The first step is considering if you or your loved one needs Long Term Care.
If you're recovering from hip or knee replacement, you wouldn't want to use a Long Term Care policy. But if you're facing declining health or a chronic medical condition such as stroke recovery, cancer, Alzheimer's Disease or other serious condition, you may want to implement your claim.
Reliable Family Member to Manage Plan of Care
Once you've made the decision to file your claim, you'll want to choose someone that you can rely on to handle calls from the physician and the insurance companies if you're not able to manage your own health needs.
He or she must be available to document and track all correspondence in a recorded document. Ideally, you'll want someone that can focus on the entire process itself and to oversee your doctor's recommended Plan of Care.
Understand the Policy
Before filing your claim, review your policy details. You can request a copy of the policy from your insurance company and even discuss your coverage and benefits with an insurance agent. Ask for help if you need it during this stressful time. Customer service is the keystone of a reputable insurance company.
Know the Benefits
Every person long term insurance policy is different. You need to understand your personal benefits so you can arrange the proper help and assistance needed to maintain your health and independence.
Some points to consider when filing your claim:
How long is the elimination period?
What are the benefit triggers?
What is the benefit period/total pool?
Does this cover non-medical home care and visiting nurses to your home?
What is the coverage for stays at hospitals, assisted living, skilled nursing facilities or convalescent / nursing homes?
What is your total benefit amount? Monthly benefit amount?
Choose a Care Provider that Knows LTCI
It's important to find care facilities and service providers that are knowledgeable and experienced with working with Long Term Care Insurance Companies.
Facilities, Home Health Agencies or Home Care Organizations that don't keep proper care notes or submit invoices on time can cause problems with your insurance payments.
Most insurance companies don't recommend or refer facilities, home care agencies ot other care services. You must choose your own provider.
Some companies point clients to online directories such as Silver Brick Road, Care Scout, Long Term Care Guild, HealthCare Synergies or to MediCare.gov. You then need to select an appropriate provider that serves your area.
Once you've selected a care provider you need to ensure they are approved by your insurance carrier.
If possible, choose a care provider that can bill your insurance company directly. Otherwise, you may have to pay out of pocket, wait until invoices and care notes are submitted to your insurance company. You then receive reimbursement from your insurance company. Then the process repeats monthly.
File Your Claim Online
After you've reviewed the policy and your benefits, chosen a care provider, you need to file your claim online.
Most insurance companies have a link on their webpage for policy holder's to file a claim. Some do have phone number's you can call for customer service.
For your convenience, A-1 Home Care Agency has included a link to many Long Term Care Insurance Company Claim forms here.
Remember, submitting a claim accurately for the first time can be a complex process – especially since you're new to the process.
Why Choose A-1 Home Care Agency for Long Term Care at Home
Don't hesitate to call A-1 Home Care Agency with questions. We pride ourselves on our customer service and have 30 years' experience with Long Term Care Insurance.
Our Home Care Organization has 30 years' experience helping elderly, seniors and disabled residents of Los Angeles County, Orange County and San Gabriel Valley.
We are a member of the Long Term Care Guild and approved by Silver Brick Road and Health Care Synergies.