One of the most frightening disorders that afflicts many senior patients today is called amyotrophic lateral sclerosis, better known as ALS or Lou Gehrig's Disease. Classified as a neurodegenerative disorder that progressively kills patients' motor neurons that send signals back and forth from the brain, spinal cord, and muscles located throughout the body, elderly patients are at a higher risk for having the disease than people in their youth.
At A-1 Home Care, seniors that suffer from ALS and its increasingly debilitating symptoms can begin to experience lasting guidance on how to better manage their symptoms before finding long-term relief. That's because A-1 Home Care offers 24-hour care services so that ALS patients can have aid with their everyday responsibilities that may otherwise be next to impossible for them considering the progressive muscle dysfunction taking place in their bodies.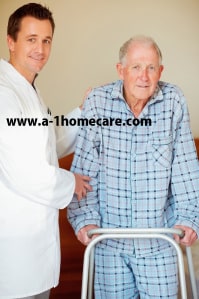 Because living alone with ALS can be dangerous– especially when you're a senior with muscles that have already atrophied over time– it's important that ALS seniors counter their increasing muscle stiffness and lack of control with the helpful hands of A-1 Home Care providers.
While a can or walker can help for a time, the fact of the matter is that it only takes one slip on a wet floor or misstep coming down the stairs to be wishing you'd had the aid of a guiding arm in that moment.
A-1 Home Care ALS service providers are fully-trained to be extremely observant and attentive to patient safety, and have been through years of learning about the common symptoms of progressive ALS and ways to combat them. As the disease progresses in elderly patients, A-1 Home Care's specialized ALS caretakers understand that their clients will have a tougher time speaking, swallowing, and even breathing– but though they may lose their independence, they don't need to lose their safety in the home under the supervision of their experienced caregiver.
For more information on the leading ALS services that A-1 Home Care can bring its troubled patients, call (877) 929-8499 today. With offices across both Orange County and Los Angeles, A-1 Home Care proudly reaches out to cities like Corona Del Mar, Pasadena, Long Beach, Alta Dena, and Diamond Bar.