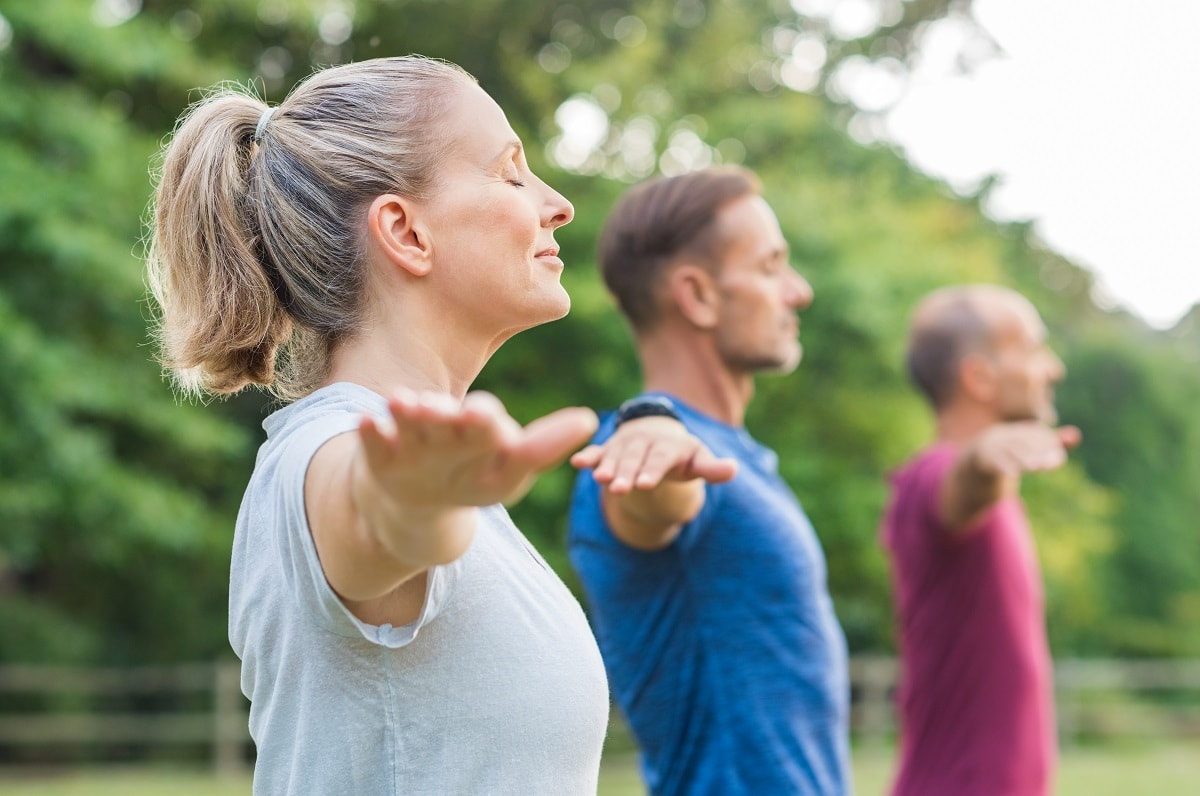 Chronic Obstructive Pulmonary Disease (COPD) is a progressive lung disease that restricts air flow, making it harder for one to breathe. These lung diseases include things like chronic bronchitis, emphysema, and asthma. The common symptoms include dyspnea, frequent coughing, and a restricted feeling within the chest. According to the COPD Foundation, this progressive disease affects roughly 24 million people in the United States. This guide is designed to help those diagnosed with COPD.
The Risk Factors
There are various risk factors that increase the risk of being diagnosed with COPD. Some of these include, but are not limited to: environmental, lifestyle, and genetics. It should also be noted that the risk for COPD is much higher if the individual has a long history of smoking – 90 percent of those that suffer from COPD were smokers.
Long-term exposure to various dust, chemicals, and fumes can also increase the risk of lung disease. However, COPD can also develop in those that have never smoked or exposed to any pollutants. The disease can develop if the individual has a deficiency of the alpha-1 antitrypsin protein within the bloodstream. A lack of this results in white blood cells attacking the lungs; resulting in severe lung damage.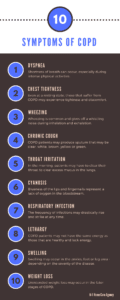 Testing
Physicians can utilize a variety of tests to diagnose COPD such as:
Pulmonary Function Test
CT Scan
Chest X-Ray
Spirometry
If you've been diagnosed with COPD and you are a smoker, your physician should recommend that you quit smoking immediately. Additionally, if you can, you should avoid secondhand smoke. Both measures tend to slow the progression of the disease.
Medicating
You'll likely be given prescription medication to control the symptoms and improve your overall level of breathing. Various medications are available for treating COPD such as oral medication, bronchodilators, and corticosteroids (inhaled). Depending on the severity of the patient's COPD, you may require oxygen therapy to ensure that enough oxygen is flowing throughout the bloodstream and your O2 levels are within normal ranges.
Exercise
By routinely taking your medication, you'll have a sense of control over managing the symptoms of COPD. Your doctor will also encourage you to participate in exercise or physical activities. Certain people with COPD do not exercise or participate in numerous physical activities because they do not believe that they have the stamina. However, exercise can actually improve the symptoms of COPD – depending on the patient and the severity of the COPD. As a matter of fact, exercise training is also included in pulmonary rehabilitation programs. The most important aspect is leaning both safe and correct ways to exercise with COPD.
You have to remember, due to breathing difficulties, you may be afraid to exert yourself and settle into an immobile lifestyle. However, inactivity can have a detrimental impact on your respiratory patterns, and worse of all, it can cause a massive decline in cardiovascular function and muscle mass.
When this occurs, you may experience a decline in your respiratory rate every time you exert yourself with a physical activity. As a result, normal tasks such as cleaning your house or playing with your kids can trigger a series of coughing and wheezing which can affect your overall quality of life, loss of independence, and even depression.
It should be noted that exercise won't reverse lung damage, but it can improve your endurance and strengthen your respiratory muscles while you're at it. Additionally, it'll help you feel better both physically and mentally, you'll gain the ability to participate in activities without becoming fatigue at a rapid rate.
However, it takes time to strengthen your respiratory muscles. Even if you believe that you're feeling energetic, don't jump into an intense workout too soon. This is extremely dangerous and can cause respiratory distress.
Take it slow and gradually increase the intensity of your workouts. It takes time, but over time, it does provide respite. Remember, you'll want to maintain consistency and establish a regular exercise routine. People tend to stop their workouts once they're breathing starts getting better. However, it all goes downhill from here, because inactivity will once again lead to a life of shortness of breath and respiratory distress.
Before jumping into the following exercises, be sure to consult with your doctor. He or she may recommend having a health aide or caregiver on hand to assist you with performing these tasks.
Strength Training
By slowly incorporating strength training into your workout regimen, you're contracting your muscles to increase strength and lean muscle mass. If you're immediately referencing the words "strength training" to professional bodybuilders don't worry, you don't have to be an Olympian to strengthen your respiratory muscles. The combination of endurance and progressive strength training can vastly improve your capacity to endure daily physical activities.
Stretching
Stretching can help combat stiffness and help keep you limber and ready to take on the day's exercises. When you start stretching, slowly warm up your muscles and lengthen at a reasonable rate. This will help prevent injury while you exercise. Additionally, stretching over time will also increase your range of motion. Remember, patients that have been diagnosed with COPD may discover that certain stretching patterns will inhibit the flow of air through the lungs, causing distress. Be sure that you start slow and stretch only to the extent that your body will allow – the progress will come on its own in time.
Yoga is another popular option that many COPD sufferers opt for. It incorporates stretching and concentrates on creating a balance in the body through strength, breathing, and flexibility. This is accomplished through holding a series of poses, each of which has a specific physical benefit for a period of time.
Furthermore, yoga also teaches you to focus on your breathing patterns as well as the way your body is positioned while you stretch. According to various studies, the effects of yoga training improved the quality of life and lung function in patients with COPD. Although studies differ in regard to statistical analysis', it's important to note that yoga is proven to help those suffering from COPD.
Aerobics
Aerobic exercises can stimulate the cardiovascular system and help the body improve the way it uses oxygen. Walking is an easy, non-demanding exercise that helps you build both endurance and muscle strength. The more you walk, the more you're consistent with it, the more you'll increase your tolerance for exercise. Once your endurance begins to build, breathing at a resting state and during exercise will gradually improve.
Routine exercise has other benefits which include:
Weight control
Lowering blood pressure
Improving quality of sleep
Assisting your mental and emotional outlook
How to Maintain Consistency Day-In and Day-Out
If you're looking to stick to a regular exercise routine, it's important to choose exercises and activities that you enjoy doing. Safe and effective workouts will help motivate you to focus on continuity rather than complacency. Some common exercises that patients diagnosed with COPD perform include:
Walking
Jumping Rope
Bicycling
Jumping Rope
Jogging
The Bottom Line
While exercise can assist with pulmonary rehabilitation and improve the symptoms of COPD, it's important that you consult with a physician prior to starting a new exercise routine. You may not be ready to take on the rigors of the workouts that you're planning on doing. Additionally, your doctor may provide you with additional guidelines regarding the best types of exercises that work well based on the severity of your condition.
It's also vital that you speak with your PCP if you use oxygen on a daily basis. If you're utilizing oxygen during a resting state, you'll need to use it during exercise as well. Your doctor may offer instructions on how to increase the flow of your oxygen during your exercise, which is mandatory if you suffer from a more severe case of COPD. Keep this in mind as your body has to compensate for the physical exertion that your body is going through during a workout – especially strength training.
About A-1 Home Care
A-1 Home Care Agency, a 25+ year veteran in the in-home care industry, can provide you and your family with a wide array of caregiving services. As a seasoned agency, we understand how caregiver burnout affects a large portion of today's caregiving workforce, which is why we keep a close eye on each of our caregiver's health and wellbeing. We want nothing but the best for our clients, and one can only achieve this by sending out caregivers that are physically, emotionally, and mentally prepared for the task at hand. If you're suffering from COPD, you'll need a caregiver that's capable, strong, and mentally prepared to help you through the delicate times.
A-1 Home Care Agency services those in the Los Angeles, San Gabriel Valley, and Orange County areas. For more information, give us a call online at: (562) 929-8400