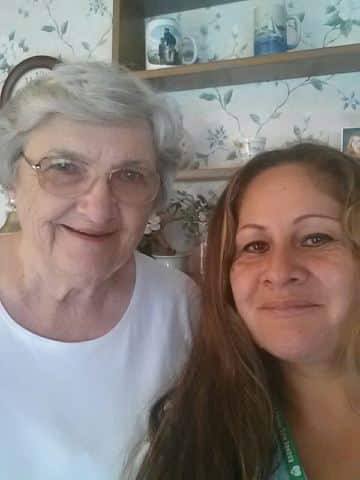 For more than 12 years, Virginia Chavez has been providing care at home to elderly, seniors and sick individuals in the Los Angeles area.  She joined A-1 Home Care Agency 4 ½ years ago and was recognized as Caregiver of the Month for July 2014.  Virginia is currently providing in homecare to our client, Mr. Fred P in Downey and has helped several other clients in the past.
Virginia became an in home caregiver for her uncle when he became ill and discovered she enjoyed helping people.  Since becoming a full time elder caregiver, she has been able to meet people she would never have encountered otherwise and developed strong friendships with her patients and their families.  Virginia says the best part of being a caregiver for the sick is winning their trust.  When someone is ill, hurting and feeling lonely, it's difficult for them to trust a professional caregiver they don't know.  She enjoys working hard and earning the confidence of her elderly patients and loves hearing the stories about their lives, travel and family.  Knowing she is making a difference in a senior's life and being accepted by their family is very rewarding.
She says working with dementia patients and elderly suffering from Alzheimer's disease or Sundowner's syndrome can be challenging and an experienced caregiver learns to be mentally flexible.  She recounted an episode of an elderly client with dementia who forgot she was his caregiver.  He believed she was an employee of his from a company he worked at 30 years ago and kept making plans with her for business trips out of the country.  If she tried to remind him that she was his elderly home caregiver, he would become upset so instead she would just reassure him her passport was in order and she was ready to leave whenever they needed to but would offer him lunch before they "left".  She worked around his confusion instead of adding to it and his wife appreciated her gentle manner of keeping him happy.
We at A-1 Home Care Agency look forward to having Virginia as a part of our caregiving family for many years to come and truly appreciate her dedication and hard work.