What is the difference between bladder and kidney stones?  The definition is the same: "A urinary calculus is a stone in the urinary tract, such as the kidney, urethra or bladder," according to Medical News Today. Each name indicates the location of the stones.  You may not know that you have bladder stones until they grow so large that they cause excruciating pain when you use the restroom.  To remedy this problem, the bladder stones need to be surgically removed.  Many patients need quality post-surgery care, and that's where A-1 Home Care comes in.  With caregivers who live all over Los Angeles County, you can count on a reliable, professional certified nurse assistant in your local area.
How Bladder Stones Develop
Bladder stones are a symptom of a more serious health problem.  When a bladder stops functioning properly, it doesn't completely empty.  The residual urine in the bladder forms crystals that eventually become stones as residues accumulate.  When the stones become too large to be excreted through the urinary tract, the person feels excruciating pain.  After surgery, a urinary catheter is inserted for a few days until the patient is discharged from the hospital or clinic.  When the patient returns home, he will experience mild to moderate pain, which makes it difficult for him to resume menial chores.  He may also be heavily medicated with narcotics to control the pain, which prevents him from driving. Post-surgery care covers transportation, meal preparation, companion care, medication monitoring, bathing, grooming and oral hygiene.  The caliber of A-1 Home Care's personal care aides is the finest you will ever find in all of Los Angeles County.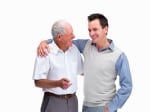 Respite Post-Surgery Care in Los Angeles County
Recovery time varies from one individual to another.  A-1 Home Care offers flexible home care options to families everywhere in Los Angeles County based on your budget, scheduling needs and level of care.  You can request part-time live-out care if you just need a lift to the nearest grocery store or pharmacy; you can also enjoy 24-hour care which provides added security if you live alone.  Established in 1991, A-1 Home Care is a licensed, bonded and insured non-medical home care agency that promises 100% customer satisfaction.  Our phone lines are open 24 hours a day to respond to your inquiries and needs.  We are even open on major holidays like Thanksgiving, Christmas and New Year's Day!
For quality in-home care, call A-1 Home Care today (310) 657-8780 or visit www.lainhomecareservice.com for more details.  Post-Surgery Care, Kidney Care, Diabetes Care, and other types of specialized care are available all over Los Angeles County, including Malibu, Pasadena, Burbank, Santa Monica, Culver City, Hollywood, and Manhattan Beach.