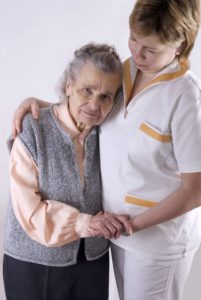 Your elderly loved one is keenly aware that his time on earth is limited. The holidays are near, and your loved one (perhaps your parent or your in-law) has never been easy to get along with in the first place, yet your heart is filled with compassion because of his situation. As you make arrangements for hospice care, you also want to show sensitivity to your loved ones during this difficult time, but no one is really opening up and talking about their feelings. The elephant in the room seems to grow bigger by the hour. The individual with cancer becomes more hostile as the days pass, making it even more difficult for you and your spouse to show love and support. How do you break the barriers between you and your elderly loved one?
Oftentimes a third party is required to break the ice. A-1 Home Care provides professional, high quality hospice care through compassionate caregivers who are experienced with bereavement and grief support. Here's what you can expect from our hospice caregivers:
Emotional support – knowing when to listen, how to ask the right questions, how to draw out your elderly loved ones, breaking down the walls they've built, talk about memories, pictures, albums, etc.
Ameliorate fears and concerns
Emotional support for the whole family
Spiritual support – readings from scriptures or the loved one's favorite books and magazines; praying with your loved one; matching our caregivers'faith with your loved one's faith
Daily assistance with basic chores such as meal preparation, light housekeeping, personal care, oral hygiene, dressing and bathing
Patient positioning
Applying Grief Recovery principles for your loved ones and the whole family
When we provide comfort for the dying, we sometimes forget ourselves in the process but we, too, need comfort, because we are losing a loved one and the mourning process won't be easy. Unless you are a certified Grief Recovery specialist, an experienced grief volunteer or bereavement professional, having to educate yourself by reading pamphlets and books about palliative care will not really provide you comfort. Having an expert from A-1 Home Care will go a long way for you, and it will be one of the best decisions you've made for your family.
About A-1 Home Care
A-1 Home Care is a licensed, bonded and insured home care agency based in Southern California. Since its inception in 1991, A-1 Home Care has delivered exceptional in-home care services to seniors and their families all over Anaheim Hills. Because we are licensed, bonded and insured, your loved ones are in good hands. Our caregivers are thoroughly screened for their criminal backgrounds, DMV records and sex offender checks. All professional references are verified. As one of the few home care agencies that have successfully received licensure from the State of California, we offer you the best and highest quality of senior care available.
For high quality hospice care, call A-1 Home Care (949) 650-3800 or visit our website a-1homecare.com for services in Anaheim, Fullerton, Garden Grove, Laguna Beach, Newport Beach, Tustin and other cities throughout Orange County.
Check us out on Facebook and Twitter!