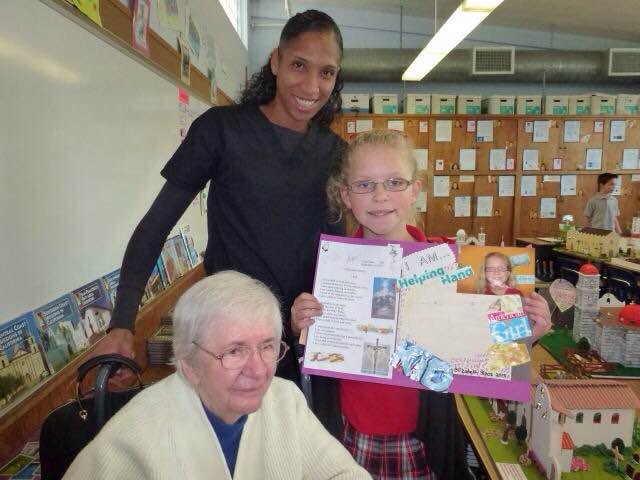 With more than 10 years' experience as a caregiver for the elderly, Danielle Johnson is doing what she loves.  She realized at an early age that she likes being helpful and truly enjoyed spending time with her grandparents.  Danielle credits her grandfather and grandmother with teaching her a lot about life. "Being an in homecare caregiver for seniors is a way of honoring my grandparents.  Senior and elderly people impress me with their strength.  I know someday, when I'm older, my body will be frail.  I just hope I have the grace and strength my clients show me every day I help them." She also cared for her God sister's grandmother when her health began to fail.  "I was so impressed with this woman who had lost her sight in an accident about 15 years before I met her", Danielle said.  "She was totally blind but knew where everything was and never acted or believed she was disabled.  She would tell me, "You're not going to treat me like I'm handicapped, I'm capable of doing anything"".  Danielle respected her for her fortitude.
For the last 1 ½ years, Danielle has been a 24 hour live in caregiver for Ilona S in Harbor City.  She enjoys being a Los Angeles senior caregiver and says she builds trust by being patient and helpful and is very dedicated to her elderly clients.  Mrs. S and Danielle enjoy going out to eat, sewing, knitting and going to watch Mrs. S's granddaughters ice skate and dance recitals.  "Mrs. S makes me laugh. Every time I'm going to run errands and ask her if she wants anything, she says to bring her back something from Chippendales."  Mrs. S says she wants "Something with a gorgeous smile, medium build and who likes to laugh."
Thank you Danielle for being the special individual that you are.  You help A-1 Home Care to be a successful caregiver agency.