PARKINSON HOME BASED CARE IN SAN DIMAS, WALNUT, AND POMONA
PARKINSON HOME BASED CARE IN SAN DIMAS, WALNUT, AND POMONA
Parkinson's disease is a progressive and debilitating illness that causes uncontrollable tremors and stiffening of muscles. It predominately strikes seniors and elderly, limiting their mobility and ability to care for themselves. If you reside in San Dimas, Azusa, Claremont, Pomona, Diamond Bar, West Covina, Glendora, Covina, Walnut, or Los Angeles County and are suffering from Parkinson's disease, we can help. A-1 Home Care is a non-medical home-based care agency with over 30 years' experience providing qualified Caregivers, Home Helpers, Nurse Aides, Senior Companions and Home Health Aides to senior, elder, handicapped, and disabled people in need of at home care services. Our Care Givers can assist with incontinence, personal hygiene, transportation, meal preparation, cleaning, laundry, pet care and much more.
For Parkinson home-based care, call (949) 650-3800 or at (562) 929-8400!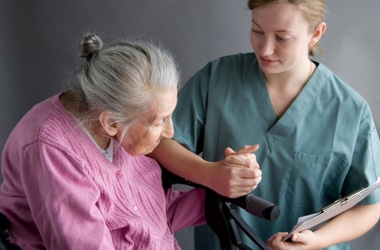 TRUSTWORTHY PARKINSON CARE FOR SENIORS AND ELDERLY
Many leading hospitals like Kindred Hospital, Doctor's Hospital and Kaiser Permanente refer their patients to A-1 Home Care. We are experts in providing compatible and affordable at home care services for 24 hour home care or part-time hourly care.
Our skilled Caregivers and Personal Care Assistants have Malpractice/Liability Insurance, verifiable references and CPR/First Aid training. A-1 Home Care has served Los Angeles and Orange County since 1991 and is Licensed, Bonded and Insured. Long Term Care Insurance Companies like Penn Treaty, John Hancock, Banker's Life & Casualty, Veteran Administration, CALPERS and MetLife Insurance approve of our in home care services for their clients. If you or someone you love suffers from Parkinson's, Dementia, Alzheimer's, or needs After Surgery Care, A-1 Home Care can help.
Call (877) 929-8499 for expert Parkinson's care!