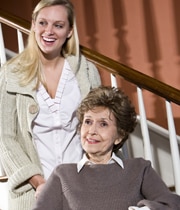 EXPERIENCED HOSPICE CAREGIVERS FOR YOUR LOVED ONES
A-1 Home Care sympathizes with your Elderly or Senior loved one, their family, and friends. We know that having a terminally ill loved one can be a very difficult time for the family – and as much as you'd like to be able to provide comfort for your loved one at all times, you have daily obligations to worry about. We can provide loving caregivers, nurse aides, or companions to provide friendship and care for any duration, whether it be 24 hour at home care or hourly part-time care in the hospital or at home.
Have questions? Just like our services, we are open 24 hours. Give us a call anytime at (877) 929-8499.
We are a non-medical caregiver placement agency that has a diverse range of caregivers who have experience with a variety of Elder Care services. A-1 Home Care serves the communities of Costa Mesa, Fountain Valley, Corona Del Mar, Irvine, Huntington Beach, Seal Beach, Los Alamitos, Garden Grove, and other cities in Orange County and Los Angeles County.
A-1 Home Care has been in business since 1991 with an A+ Rating from the Better Business Bureau and Shield Accreditation. If your loved one carries long term insurance, we accept Penn Treaty, John Hancock, CALPERS, MetLife Insurance, Bankers' Life & Casualty, and Veteran Administration.
CALL us today to hire a hospice caregiver in your area at (562) 929-8400 or at (949) 650-3800.