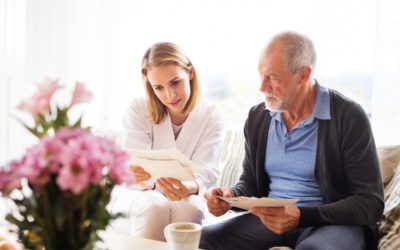 COMPASSIONATE CAREGIVERS FOR BRAIN INJURY SURVIVORS
When Elders and Seniors fall in the home, it accounts for most Elderly hospitalizations, injuries, and deaths, according to the CDC. This statistic is further reinforced by the fact that about 3.2 million households in America are comprised of Elders and Seniors aged 65 and older living alone. When an Elderly individual suffers a fall in the home, it can be from careless situations or not having the Elder-friendly living accommodations available. For example, an Elder can slip and fall in the kitchen from spilt juice or water from the kitchen sink or they can slip and fall because of a wet bathroom floor and not having proper grab bars set up around the bathroom.
Elders may suffer from brain bruising or internal bleeding that can have temporary or long-term complications on their physical and/or cognitive functioning. The individual may develop movement disorders such as tremor, loss of coordination and balance, limited range of motion, unstable mood swings, and cognitive defects such as memory loss, short attention span, impaired judgment and thought processes, and other complications that are dependent on what part of your loved one's brain was damaged and the severity of damage.
At A-1 Home Care, we provide Brain Injury & Tumor Care for Elders and Seniors on a 24-hour or Hourly Care basis. Our caregivers, nurse aides, companions, and home helpers can provide care for any situation, whether it's temporary care as your loved one becomes familiar once again with their daily routines or long-term care because of lasting disability. If your loved one has had a recent brain tumor removal surgery, we provide Cancer caregivers and Brain Tumor caregivers to help your loved one recover safely.
All of our Brain Injury & Tumor homecare professionals must have at least 2 years of prior at home caregiving experience, verifiable professional references, a National Background Check/DMV Check, Tuberculosis testing, Malpractice/Liability insurance, First Aid/CPR training, and a personal interview with our office staff.
To interview and hire a caregiver in your area today, CALL us at (949) 650-3800 or at (562) 929-8400 for a FREE assessment.
About A-1 Home Care Agency
A-1 Home Care is a Licensed, Bonded, and Insured non-medical homecare agency that has been a care provider in Fountain Valley, CA since 1991 with an A+ Rating from the Better Business Bureau, Shield Accreditation, and memberships with the National Care Planning Council and Chamber of Commerce of Torrance, Santa Fe Springs, Pasadena, and Newport Beach.
We serve the OC communities of Fountain Valley, Costa Mesa, Huntington Beach, Newport Beach, Corona Del Mar, Laguna Beach, Irvine, Tustin, Garden Grove, Seal Beach, Los Alamitos, Villa Park, Buena Park, Anaheim Hills, Yorba Linda, Brea, Fullerton, and others in Orange County.
If your loved one has long term insurance, we accept Penn Treaty, CALPERS, MetLife Insurance, Veteran Administration, John Hancock, and Bankers' Life & Casualty.
Still have questions? Give us a call anytime at (877) 929-8499.