Senior & Elder Care Services
A-1 Home Care provides exceptional in home Senior Care & Elder Care Services for the residents of Anaheim Hills, Yorba Linda, Brea, Corona, Placentia, Fullerton, La Palma, Villa Park, Orange, Westminster, La Mirada and all cities in Los Angelesand Orange County. Our Home Care Providers accommodate excellent live in caregiver services which ensures that your elderly loved one will have all daily tasks accomplished, including cleaning, cooking, washing and so much more. The intricate Senior Care programs we offer will care for your elder relative who suffers from Cancer, hip surgery, Stroke, Parkinson, Dementia, Heart Disease, Alzheimer or is under Hospice Care.
Find out more about our at home Senior Care services at 949-650-3800. To locate a professional caregiver in Seal Beach.

Full Flexibility for Elderly and Senior Care
If your loved one is seeking fully flexible Elderly Care and Senior Care services that will meet his or her every need and qualification, we are the right Caregiver Agency for you! A-1 Home Care has a team of diverse and experienced Home Care Professionals based all over Southern California that can be sent right to your door within even the same or next day of your request. Our care for seniors can be yours for Live-In, Live Out, overnight or hourly durations, depending on what your exact specifications are for homecare assistance. The caregiving services include but are not limited to the following: medication management and administration, transportation to medical appointments, preparation of meals for breakfast, lunch and dinner, household maintenance, running errands and so much more. We have 24/7 live operating assistance so that we can be there for you when you need us.
Want to find out more about our At Home Senior Care? Call us at 949-650-3800 today! To locate a caregiver in Los Angeles, click here.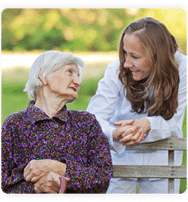 The Senior Care Solution at A-1 Home Care
The Senior Care Solution at A-1 Home Care is unlike any other homecare experience you can find in all of Southern California. The reason being is that we service our clients with only the best Caregivers by following a strict but effective formula to receive the most qualified Home Care Providers. If you are in search of at home care, A-1 Home Care can help you if are looking to be discharged from local hospitals such as:
Kaiser Permanente Hospital in Anaheim
Chapman Medical Center in Anaheim
St. Jude Medical Center in Fullerton
Corona Regional Medical Center in Corona
La Palma Medical Center
We are a Licensed, Bonded and Insured company that has had the opportunity to work with families who had Long Term Care Insurance coverage through the following companies, namely Penn Treaty, John Hancock, Bankers Life and Casualty, Veteran Administration. CALPERS, MetLife Insurance, Continental Casualty Company and Senior Health Insurance Company of Pennsylvania. Call A-1 Homecare anytime at 949-650-3800. To locate a caregiver in Whittier, click here